Welcome to Insaa Serviced Apartments Dandenong
Insaa Serviced Apartments provides Luxury Serviced Apartments in Dandenong. The apartments are situated at Metro Village. These Dandenong serviced apartments are 2, 3 & 4 bedrooms with a range of layouts and designs. Each apartment is modern and contemporary and fitted out luxury furnishings and enjoy spectacular views.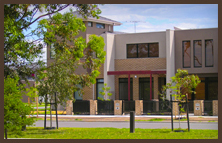 Luxury Serviced Apartments @ Metro Village
New architecturally designed Two, Three & four bed room luxury serviced apartments located in a quite landscaped street overlooking the Dandenong creek and park land in the heart of Melbourne's growing south eastern corridor. Situated in Dandenong CBD, 35 kilometres from Melbourne's CBD it provides easy access for conducting business in the outer South Eastern suburb's of Melbourne.

Contact Us
Insaa Apartments
57 Keneally Street,
Dandenong, 3175
Melbourne Victoria
AUSTRALIA

Telephone: +61 3 8802 8337
Email: admin@insaa.com.au